March 25, 2013
Jessica Upshaw, the former Representative from Mississippi who was found dead of a gunshot wound to the head was recently assigned to be Chairman of the Committee directing BP oil spill fine money, fines that ranged between 5 billion and 20 billion dollars. The list of BP whistleblowers and 'personalities' who have met a mysterious demise since the oil rig explosion ncluding Matt Simmons may have grown by 1.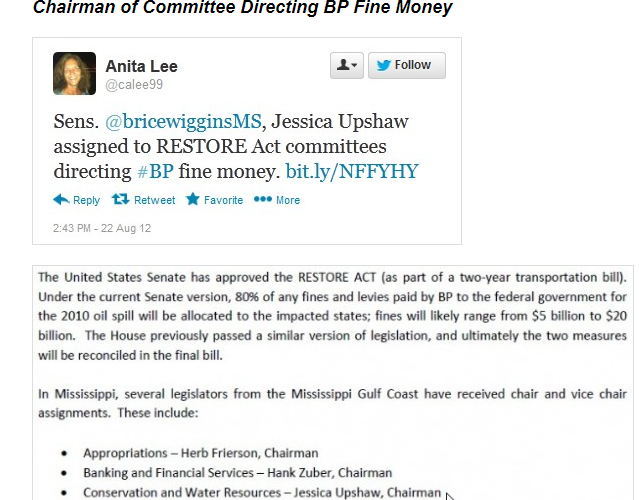 Prior to the recent death of Upshaw, 4 other members of the Mississippi legislature had also died within the past 4 months. All 4 were members of the Legislative Black Caucus of Mississippi; two of them former Chairs of the Mississippi House Ethics Committee. Since November of 2012, the Mississippi legislative body has lost one member each month. Do they have someone 'lined up' for April?
Bennie Turner (D) - age 64 - brain tumor - died 11/27/2012

Alice Harden (D) - age 64 - undisclosed, lengthy illness - died 12/06/2012

David Gibbs (D) - age 76 - cancer - resigned for health reasons 01/08/2013, died 01/13/2013

Joe Gardner (D) - age 68 - apparent heart attack - died 02/04/2013
Jessica Upshaw was found underneath the garage door, merely feet away from her car, in the home of former Mississippi lawmaker Clint Rotenberry, with whom she had been having a relationship for quite a few years and whom she had just spent the weekend with.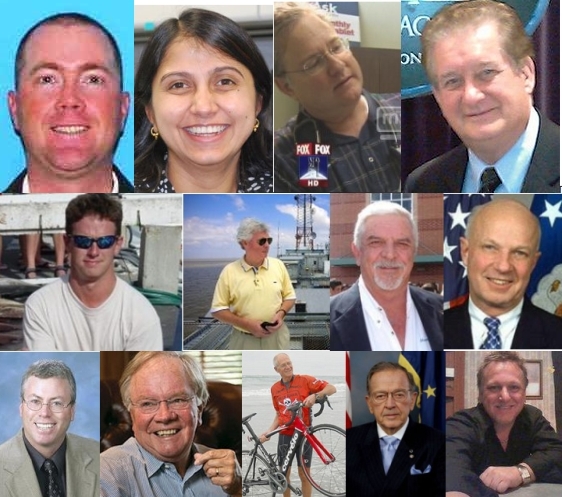 With a list of BP Oil Spill whistleblowers above who have met tragic ends, the comments below from the ENE News story linked above sum up my thoughts on this matter perfectly.